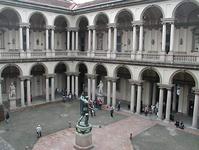 The Pinacoteca di Brera is a paramount example of cultural amalgamation of Brera academy and Palazzo Brera which primarily displays the finest collection of Renaissance and Medieval Italian paintings. The 17th century medieval palace shares a long enriching history from the time of Napolean who used it as a storage place for his eccentric fascination of paintings that he had captured on his rampage through Northern Italy. The 40 rooms of the palace arrange the masterpieces in a disciplined manner according to the era in which they were painted.
Opening Hours: Tuesday to Sunday: 8.30-19.15, Closing days: every Monday, January 1, May 1, December 25
Address: Palazzo di Brera - Via Brera, 28 - 20121 Milano, Italy
Tel No: +39 02 722631
Fax No: +39 02 72001140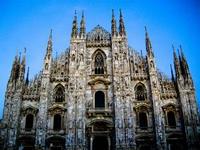 Patience can turn out to be a beautiful experience as with Duomo, the fourth largest and opulent Gothic cathedral whose construction was spread over five centuries until Napolean came into the picture and ordered it to be completed in 1809. The spot on which it is erected is famously known as Piazza Duomo and has been sacred for the Basilica of Santa Maria Maggiore. Duomo was the enterprise of Gian Galeazzo Visconti who donated the bricks & marble that beautifies the cathedral and forms the main part of its structure.
The inspiring cathedral is Italy's last Gothic works and is accentuated by 135 brilliant marble spires, 3,400 statues and 96 gargoyles that transport us back to the medieval times. When visited during the summer, the sunshine as it filters through the stained glass mosaic windows embodies the 40,000 church worshippers with the feelings of belief, faith, religion and culture. The inside of the cathedral is as grand and spacious as the Visconti family would have liked it be. The nave which touches a height of 45 meters is the highest for any cathedral. Divided into five aisles, the cathedral houses the tomb of Gian Giacomo Medici, its most important benefactor. Every May and September the cathedral puts on view a nail from the cross of Christ for which thousands of devout Christians from all over the world visit the Duomo. Each and every nook and corner of cathedral is worth viewing and its work of art to be praised. The kind of artistic decoration that the structure has been endowed with is nowhere to be seen today.
Opening Hours: Duomo: daily 6:50am-7pm. Roof: daily 7am-7pm. Crypt: daily 9am-noon and 2:30-6pm. Baptistery: Tues-Sun 10am-noon and 3-5pm.
Address: Via Arcivescovada 1 - 20122 Milano, Italy
Tel No: +39 02 72022656
Fax No: +39 02 72022419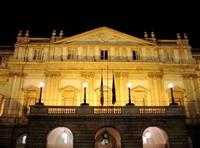 If opera was to be known by any other name, then it would have to be by Teatro alla Scala, the world's largest opera house. Built in 1776 Giuseppe Piermarini on the site of Church of Santa Maria alla Scala it is a witness to the first steps of operas when it didn't assume much importance. Later on opera donned on a romantic endeavor and was rightly successful in it under the guidance of Ferdinando Paer and Giovanni Simone Mayr. In 1943, during World War II it was badly bombed but was restructured later. Along with the theatre today, it also accommodates the Museo del Teatro and La Scala's Ballet School.
Opening Hours: Daily 9am to 12.30pm and 1.30pm to 5.30pm
Address: Via Filodrammatici 2 - 20121 Milano, Italy
Tel No: +39 02 88791, +39 02 860775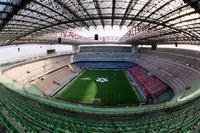 Stadio San Siro, Milan's central football stadiums where all fanatic sports fans gather together for their favorite match, has been named after their eminent Milanese footballer Giuseppe Meazza. Inaugurated in 1926, constant renovations and reconstructions have led to increase in its capacity of accommodating more that 85,000 visitors. An interesting fact; its design has been put on paper by Leonardo da Vinci but he himself could not complete the dream of constructing it himself.
Address: Via Piccolomini, 5 – 20151 Milano, Italy
Tel No: +39 02 48713713
Fax No: +39 02 48713719
Cimitero Monumentale di Milano (Cemetery)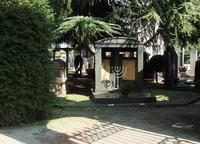 Cimitero Monumentale di Milano is an important cemetery in Milan occupying a spot by the same name of Piazzale del Cimitero Monumentale. Going back in 1866, its 250,000 sq.mtrs of area are a silent spectator to various burials of distinguished people, over the years. The main highlight of the cemetery is the House of Fame or Famedio whose resembles to Pantheon is uncanny but is historically important as it's the burial place of important persons.
Opening Hours: Tuesday to Sunday 8.00am to 6.00pm, Every Monday, 1st January, Easter, Easter Monday, 1st May, 2nd June, 15th August, 8th, 25th and 26th December closed
Address: Piazzale Cimitero Monumentale, Milan, Italy
Tel No: +39 02 88465600
Basilica of Sant'Ambrogio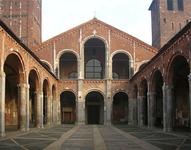 Basilica of Sant'Ambrogio is dedicated to 3rd century Saint Ambrose who served as the Bishop of Milan during his times. The architecture of the basilica has been noted due to its medieval façade, but during consequent centuries it has been renovated and re-built many times giving its design a Romanesque touch. Today what remains is the Romanesque Basilica originating from the renovations carried out in the 11th century. Among all its intricate carvings the most notable are the Nave, large marble ambo, Sarcophagus of Stililchone, Golden Altar and Ciborium, Apse Mosaic and most important of all, crypt of St. Ambrose where the Saint Ambrose and St. Gervasius and Protasius are carefully kept, donned in typical bishops attire.
Opening Hours: Mon-Sat: 7am–noon, 3–7pm, Sun: 7am–1pm, 3–8pm
Address: Piazza Sant'Ambrogio, 15 - 20123 Milano, Italy
Tel No: +39 02 86450895
Fax No: +39 02 8693839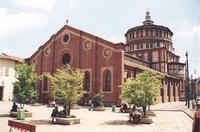 Listed under World UNESCO Heritage sites, Santa Maria delle Grazie is a church and convent in Milan with an architectural design that is a core part of the Renaissance era along with the presence of the masterpiece painting of Leonardo da Vinci-The Last Supper. Between 1466 and 1490 the foundations of the church were laid by Guiniforte Solari with the apsidal part being added on later by Bramate. The north wall is embedded by Leonardo da Vinci's painting: The Last Supper painted between 1495 and 1497, which portrays Jesus's last supper before his death. In this work of art, Jesus last words include that one of his disciples (Twelve Apostles) is going to betray him.
Opening Hours: Tues.-Sun. 8-7:30, last entry 6:45
Address: Piazza Santa Maria delle Grazie 2, off Corso Magenta, Sant'Ambrogio, Milan, Italy
Tel No: +39 02 89421146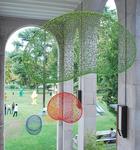 Since its origins in 1923 Triennale of Milan has been the centre point for designers with intense creative collaboration going on between the fields of industrial arts, designing and applied arts in Palazzo dell'Arte. The name which suggests, "three times a year" when translated has been holding various exhibitions from 1980 displaying various kinds of furniture, architecture, etc.
Address: Viale Alemagna, 6 - 20121 Milano, Italy
Tel No: +39 02 724341
Fax No: +39 02 89010693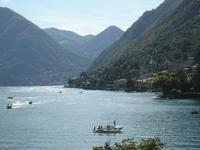 One of the largest and deepest lakes in Italy, Lake Como is just 40 kms north of Milan and is famous for its villas, picturesque mountains and valleys and the constant influx of Hollywood celebrities. Leisure facilities like golf, tennis, squash, skiing, sailing & water sports are available in abundance while highlights include various grandly decorated villas of hi-profile celebrities such as George Clooney, etc.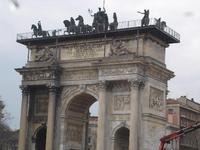 The Arco della Pace; one of the foremost Neo-classical monuments in Milan comprises of two tall statues located in the area of Corso Sempione near the park by the same name. The structure was constructed as a commemoration to Napolean's victories. Construction which began in 1807 was followed by many glitches but was over by 1838 under the rule of Austrian Emperor Ferdinando. It became a testimony to the independence of Italy and the inscriptions of the Austrian rulers were promptly overwritten.