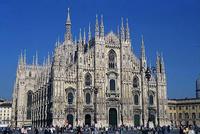 Milan (Milano in Italian), the motivating force behind the financial sector of Italy, is the second largest city in the country behind Rome. The city holds a strong position as the capital of the Province of Milan as well as the regional capital of the Region of Lombardy. While Rome does enjoy its position as the administrative capital of Italy, Milan makes it presence felt strongly in many areas mainly in the fashion industry. Along with the powerful names of Paris, New York and London, Milan is referred as one of the fashion capitals of the world. The heart of the financial hub of Italy lies in Milan with the National Stock Exchange located in the city. The urban look of the city may not exactly make heads turn as it does with other Italian cities that have long Roman history emotionally involved with them. Nevertheless, the fashion expositions, nightlife, Italian food and the metropolitan area of Milan provide the futuristic outlook of Italy, which attracts many youngsters. Also, it's like a base camp for exploring Northern Italy's tourist cities which include the Alps.
Milan might wrongly represent itself as an expensive destination, which is untrue considering there are lots of places in the city where one can have a cup of coffee without losing lots of pennies. Also it's not only the place where fashion conscious people throng to get a place at the first row of Milan Fashion Week, but also where museums, churches and theatres can provide an insight to the forgotten ancient generation. Window shopping, appreciating art pieces, viewing the city through the horizon of the mountains or going on evening strolls can be as pleasurable and romantic.
Milanese people are one of most hard working people on the earth and the believers of the saying "Work Hard & Party Harder". The Milan Metropolitan Area has the highest density of urban and industrial population in Italy and one of the biggest in Europe. The area is a part of the "Blue Banana" cities in Europe.
Country
Italy
Capital
Roma / Rome
City
Milano / Milan
Region
Lombardy
Province
Province of Milan
Area

City: 182 km2 (70.3 sq mi)
Urban: 1,982 km2 (765.3 sq mi)

Population

Density: 7,159/km2 (18,541.7/sq mi)
Urban: 3,076,643
Called: Milanesi or Meneghini

Time Zone
CET (UTC+1) Summer: CEST (UTC+2)
Official Language
Italian, Western Lombard language (Insubric), Milanese